The Visiting Vet - Appointments
Appointments
All Clients must call the office to make appointments. We do not schedule appointments through email.

New clients need to complete a New Client Pack prior to an appointment being scheduled. Before a New Client Pack can be sent, we need as much information as possible about your pets' needs and issues to see if The Visiting Vet is a good fit for your needs.

We often have the request for Dr. Rice to "just stop by" when she is in the area. Although this seems a reasonable request, we tightly schedule appointments taking into account drive time, owner's time, animals needs, seasonal road situations and Dr. Rice's talk time. Therefore, rarely do we have spare time to just "stop by" for an unscheduled appointment.
Appointment Location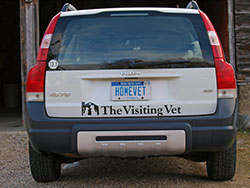 If you live in the greater Lansing area Dr Rice will come to your home for your appointment. If your are from out of town, we have an office space located at at 2896 N. Williamston Road, Suite 340 in Williamston, MI.
Use Exit 117-B from I-96. The office is the first brown brick building on the right. Turn into the road for the Marathon station and then turn right behind the brick building to park. We are the third entry door.

If you are coming through Williamston

Watch your speed

Dr. Rice will come out to escort you into the building, when she escorts the previous client out. If Dr. Rice is a bit delayed, consider using this time to "air" (or potty) your pet. Please clean up after your pet when outside the building.


Click on the image for driving directions via Google Maps.
Click Here to download an annotated map.


Appointment Cancellations
lf you must cancel an appointment please call the office at least 24 hours prior to your scheduled appointment. You may leave a message on the answering machine if your call is not during regular office hours. You may also call the pager and leave a message.
Prescriptions & Refills
Please give the office at least 5 days advance notice for medication refills to allow for processing time. Medications are sent out via US mail once a week or put into our special drop box for you to pick up. You can call or email refills@mihomevet.com to submit your order. Please read/include all of the information off the label when submitting a refill order.