The Visiting Vet - About Us
Anne S Rice, DVM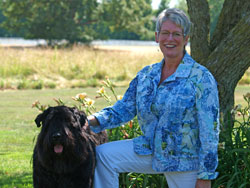 My house call practice started in 1986, eight years after graduating from MSU Veterinary School. It grew out of the need to have a more flexible practice having three children all under 2 years of age. With the support of my open-minded husband and a flexible schedule, I was able to go on the road. Seeing animals in their safe, comfortable, familiar home setting allowed me observations that I never witnessed in a clinic setting. A house call practice suited my personality as well. I love to talk, teach and play with animals. Could there be any better job?

The name of my practice evolved from 3 experiences. At MSU we had always put on an open house in April to show off the profession called Vet a Visit. In 1980 I helped start an animal-human bond program using animals to enrich the lives of nursing home residents called "The Visiting Pets". Lastly, I drive to homes to "visit" my patients and while there, I sit and "visit" or talk a lot with the owners of my patients.

Integrating holistic and complementary medicine into my house call practice started from my personal need for relief. My own body is very unhappy with most pharmaceuticals. Due to some incapacitating migraine headaches, I found acupuncture and cranial sacral manipulation offered me the help I needed. After practicing for 10 years, I was finding veterinary cases where I was unable to offer enough relief. My "Ahh Haa" moment came listening to an elder colleague discuss acupuncture and how it changed the lives of his chronically painful patients. Assisting the body to heal itself felt like a positive tool to blend with my conventional knowledge. I started my exploration and training in acupuncture and other energy modalities in 1988.
Office Staff - Lori & Mary
Lori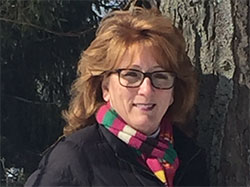 I met Dr. Rice in 1988 when our family moved to Williamston from the Detroit area. Our kids went to school and grew up together. I started working for The Visiting Vet in 2004, shortly after my first grandchild was born. I have two grown children and five grandchildren, plus 4 grand dogs, 3 grand cats and 1 dog of my own. I like to travel, work outside in the yard, sew and spend time with my family. I have a BS degree in Business Administration with emphasis on accounting and management from Lake Superior State University. My husband and I, children and grandchildren all live in Williamston.
Mary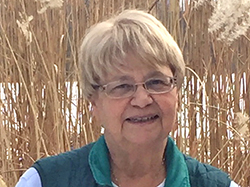 I met Anne when our family got our first dog, a Golden Retriever named Chelsea, who entertained us for 16 great years. Our family has loved many, many pets and I enjoy talking with people who share my love of animals. After growing up in Western New York State, I came to Michigan to attend MSU, where I met my husband Mike. After all these years, I am still a loyal Spartan fan. Our family was fortunate to be able to travel throughout the U.S., but my favorite parts of the country are still Western New York and the Upper Peninsula of Michigan. I love traveling, cooking and spending time with friends (including the furry ones). Although my most fun and rewarding job was working with Mike to raise our two children, I also worked for many years as an office manager and bookkeeper. I live in Okemos with my two cats, Beau and Bentley.
Cast of Characters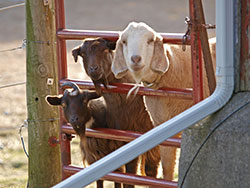 I have quite the cast of characters around my house from Gracie (Bouvier), Moozie (Cat), Gilbert and Jill (Feinting goats), and many chickens.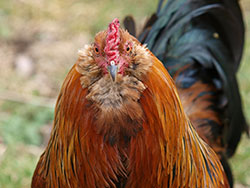 Complaints? Problems? Issues? Take it up with Rooster Kenny. He is our resident customer service specialist.